High Quality Suede Vests Hand Cut in North Carolina
Established in 1980, CowCatcher Leatherworks, in the Research Triangle Area of North Carolina, is a small manufacturer of custom-made leather products. Our most popular products are Do It Yourself (DIY) vest kists which are available in a variety of sizes. Children take pride in their vests when they spend time with their parents, learning a new skill as they begin their Y Guides journeys. Decades later these vests become part of treasured memories. They look at the vest they made and the badges they collected as part of their journey.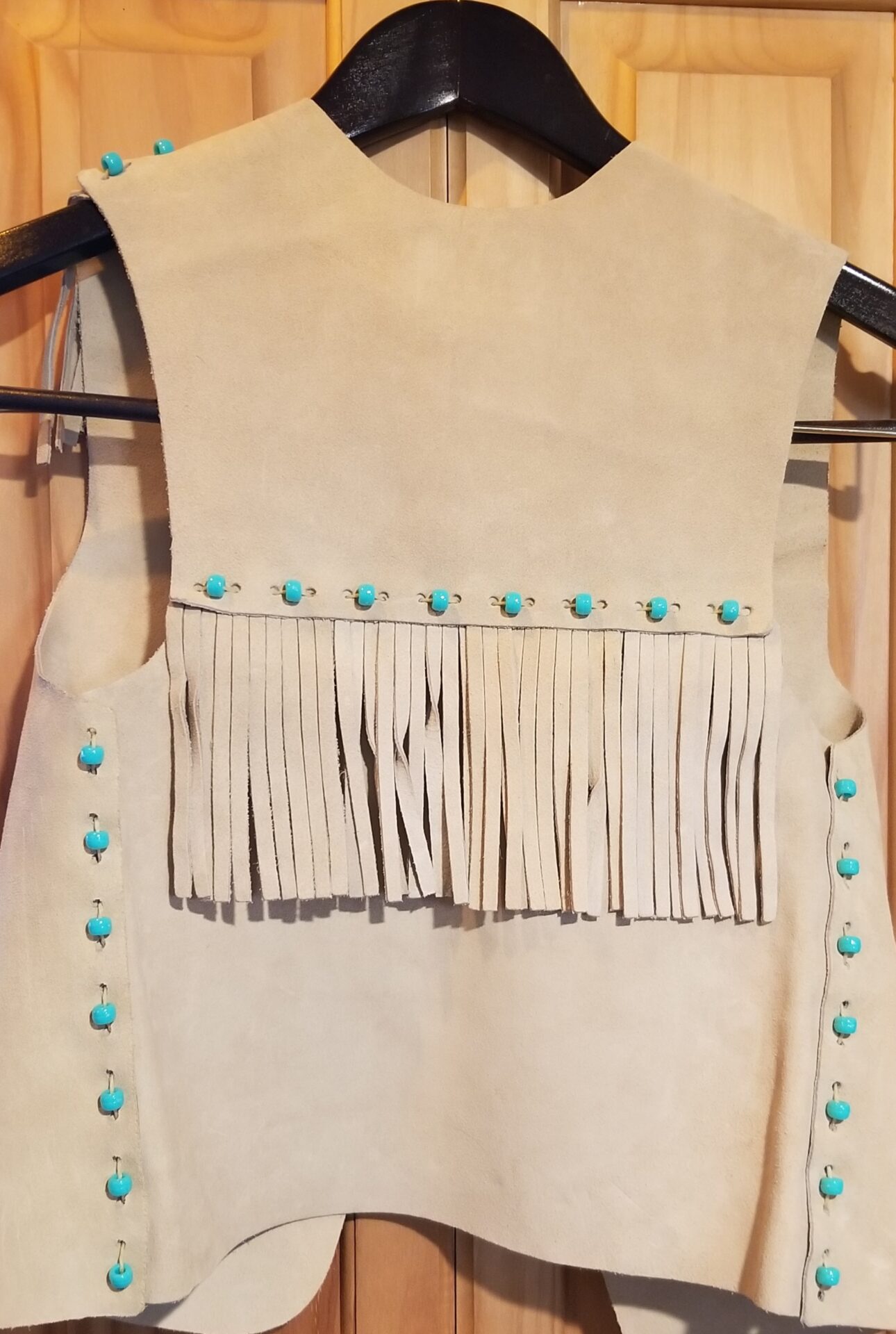 CowCatcher Leatherworks has a variety of project kits for children to complete with their dads or their tribe. Pictured is a ready to assemble doll vest kit.
Learn More About Our Custom Leather Products Now
If you would like to get more details about our customer leather products and kits, you can reach out to us today. Our helpful staff will gladly answer all your questions and concerns.
This is the second time that I am ordering this vest. It is an awesome Vest! I just put it together and it is a traditional vest and I am a Native American and I love it!
- Paul in Florida
Just wanted to thank you for the advice you gave and the samples you sent for my first time painting on leather. A project from my Richmond, VA grandchildren left me wondering how I was going to execute what I/they wanted on their vest. Thanks, with your help the light bulb finally went off. I think the end product will be a hit.
- Thanks again, Grant Parrish
I just received my order for my two vests, which are of amazing quality! My daughter has been wearing hers for the past five hours – I think it's safe to say she's crazy about it… Once again, I'm simply amazed by the softness and craftsmanship – so glad Kip Volkman steered us your way!
- Chris Jordan in PA
Thanks for swapping out the child medium for the assembled one and only billing the difference. Your service is outstanding and I'm sure my girls and I will love the vests and the memories we make in them!
- Respectfully, Jeremy Taylor
I forgot to include one family's vest order when I sent you the last email. Would you be able to send an Assembled Plain Adult XL vest and a child's medium and a child's large vest, both with beads and fringe, please? Thank you so much for being incredible!
- Sincerely, Kylee Maarschalk
—Kylee is Program Director for the Wilmington NC YMCA—
Just to let you know that Maddie and I were very pleased with the quality and beauty of the pieces you made….you do great work! Also, I want you to know that I appreciate the effort you put into getting the pieces to us, before we left for Fla…you're a good man!!!
- Frank Zolfo
—This is a customer in Florida that I made a purse, belt and eye glass case from an Alligator that he killed.
Yesterday, I completed Child large vest. I included fringe. It looks great. I am sure the girls are going to love this high quality vest. These are certainly the best vest on the market, I am glad that I chose Cowcatcher Leathers.
- Ray in New Jersey
Thank you for the help with our large order, you helped me get the "Blue Bead" Tribe up and running in short notice just in time for our Fall Outing.
- Bee Warrior, Blue Bead Tribe, Goldsboro NC
—Child Small – Assembled with Fringe and Beads – ordered on Thursday—
If possible my daughter would like the alternating 2 shades of pink beads like you have in the example photo of the "Little Bluebird" vest.
—We will cancel previous order and credit you for difference after special design upcharge.—
Thanks for the update and for taking such good care of us. I know my daughter is going to love the vest!
We are preparing for our Princess Longhouse which is this coming weekend.
Do you think it will get here in time for that?
—You should receive vest by Tuesday.—
- Thanks for the quick reply! Wayne
I just wanted to say "thank you" for the beautiful assembled rust brown vest you made for us.
The turquoise beads and fringe really set it off, and my daughter Melia is quite pleased.
Thanks again from SoCal.
- Kindest regards, David
—Child Large – Assembled with Fringe and Beads – ordered on Wednesday—
I need this at my address in Illinois by next Friday. Is that possible?
—Your vest will go out UPS Monday. You should have it by Thursday.—
You guys are awesome!!! Thank you so much. She will be able to use it next weekend. I am so excited!!!
- Thank you, Mitch
—Child Medium, Adult Large, Child Large – all Assembled – ordered on Thursday—
Please rush this order as we would like to have this by next week for a Yguides event.
—shipped—
Thank you for sending the vests so quickly. I believe I messed up a size and got one of my daughters too large a size. Can I possibly return the Child Large for a Child Medium size? 🙂 Brian
—Yes, we will gladly exchange it and adjust the price difference for you.—
- Brian
—Adult Extra Large, Child Medium – both Assembled – ordered on Sunday—
I forgot to ask before, if the vest is the wrong size, what is your return policy?
—We will gladly exchange any merchandise and return or request funds.—
Thank you, we received the vests and they fit great.
- Thank you again. Eric