Custom Leatherwork Orders
We have made a wide variety of custom-ordered products since we started business in 1980. Some of our orders have been for as many as 15,000 pieces each year for several years. We have also filled many orders for one-of-a-kind items, some of which we'll never make again because they were so extremely unusual.
Eric Dudek is our designer and he personally makes all of the one-of-a-kind items.
Our Examples page contains photos of some of our products. Should you see anything here that we could make for you or that gives you an idea for something else you would like to have made, please call and talk with Eric. He will be happy to customize an item for you.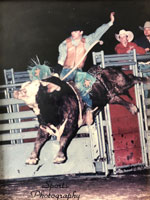 Eric Dudek at one of his early workbenches.
Examples of Custom Orders